The Miss Hatteras and/or the Cap N Clam are available for your next private event in the Outer Banks.
Our head boats are a perfect venue to host your next party or private event.
Our vessels can host your group for any type of event. Our most popular cruise charters include rehearsal dinners, weddings, private social clubs, family reunions, and funerals. Our most popular fishing charters include bachelor parties, fishing clubs, family groups, church groups, neighborhood groups and work groups.
Being on the boats is a great private experience and a great way to spend the day or evening together. Bosses often book a trip for employees as a reward for a great year. Families love the time together without distractions and cell phones while participating in an activity all the generations can appreciate. Fishing clubs enjoy the camaraderie of their own group
If you're looking to hold an event in the Outer Banks, and are looking for a venue that's more exciting than the same old, same old, then you might want to consider either the Miss Hatteras or Cap N Clam head boat for your next private event.
What you need to know about renting our party boats for your next private event in the Outer Banks.
Our party boats rates are very economical.
Our vessels rent out for  between $800 and $3,500. Catering, food, drinks, or service staff, would be contracted separately. Since we don't do any catering,  we are able put you together with local providers to help you plan your event.
Additionally, the day of the week and time of year will impact the price of renting our party boats. If you're flexible on the schedule and price, we can work together with you to find a date that accommodates your needs and falls within your budget and time frame.
You call the shots on a private cruise.
Depending on what you're looking for, we can depart the dock at whenever you need us to, for however long you'd like, and sail to wherever you're looking to go. If you'd like to cruise the sound, or head out to sea we can do that. If you'd like a dolphin cruise, or want live entertainment, we can accommodate that request as well.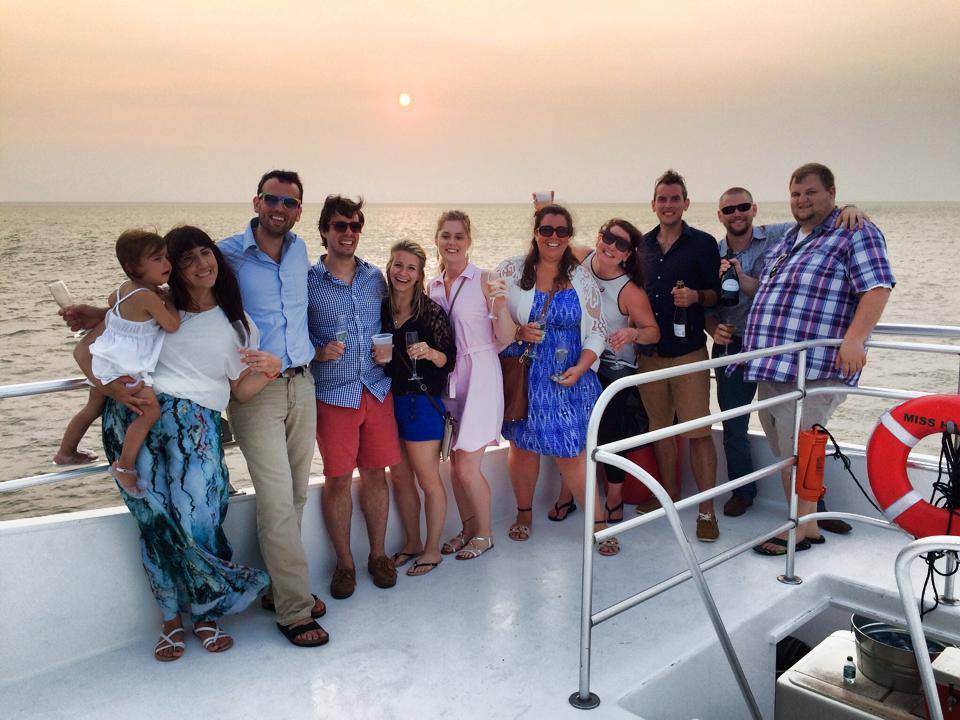 You can use our party boats for virtually any private event.
We can accommodate many groups and requests. For instance, in the past the Miss Hatteras and Cap N Clam have been used for:
Weddings
Engagement Parties
Rehearsal Dinners
Birthdays and Anniversaries
Bachelor and Bachelorette Parties
Booze Cruises (a very popular option for sororities and fraternities)
Funerals
Family reunions
Boy Scout troops
Work Groups
If you need help, we'll work with you to plan the perfect event.
We can work with you to custom tailor your experience exactly as you'd like it. We can help you find local caterers, including everything from simple options like pizza or finger foods to more elegant and upscale dining options.
Additionally, we can work with liquor suppliers to provide you with anything you need for beverages. Depending on your suppliers, you can have the option for wait staff and bartenders to help accommodate your guests while on our vessels.
We can provide the space necessary for keeping food hot, drinks cold, and the staff you need to ensure you have great experience.
No matter what event you're looking to host, we can assist you with any planning needs. Call today for more details.
For a one of a kind venue for your next private event in the Outer Banks, look no further!
We've been operating our head boats in the Outer Banks for over 30 years, and we'd love to add you to our list of satisfied customers. For more information about our private fishing charters click here to contact us or give us a call at (252) 986-2365.